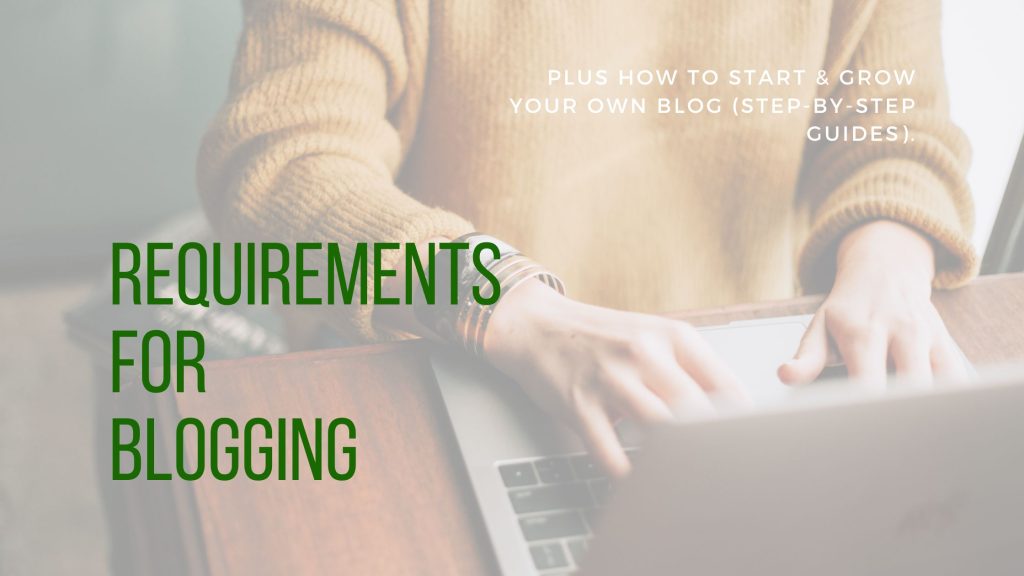 Do you love writing or have messages to teach the world via the internet like us (bloggers/article writers) and searching for how you can make it successful? Welcome to this page where we shall show you the requirements for blogging for 2023.
Blogging is the act of publishing content (articles/posts) on a website or a blog page on a regular basis to teach, educate or inform the readers. One of the interesting things about a blog is it can be written with an article by multi-persons.
In case this is your first time searching how to create a blog or you just want to know the requirements involved for owning a blog in 2023, you are in the right place. Continue reading to know more.
Now, let's start.
Requirements for blogging (2023)
#1. Computer
Every blogger will need a computer with access to the internet. A PC or a laptop is likely the most sensible solution, as it is easier to write on a proper keyboard, especially when working on longer articles.
A tablet or a smartphone can be used for blogging. You'll need an internet connection and a web browser (such as Chrome, Safari, Firefox, or Internet Explorer, etc) installed.
#2. Hosting and domain
Your blog will need to be hosted online by a hosting and domain registrar. Your hosting is the store for your business and the domain is your business name, for example.
To start any physical (offline) business, you must acquire a place (store) and sometimes a business name/certificate. And that is what hosting and domain mean when it's come to starting a blog.
#3. Content Management system (CMS)
This is the way of creating a blog without having to write a single line of computer code. One of the extremely popular examples of content Management systems is WordPress because it can be installed for free and there are many tutorials and tips available on the internet, also for free.
Other CMS like Joomla is more specialized, but often, they are a little more complicated. However, to install a CMS, you will need suitable hosting.
#4. Consistent time and effort
These are the two requirements for any task in the world. To succeed in anything, you need to put in consistent time and effort.
If you are blogging as a side hustle, once you have realized its benefits, make it a full-time hustle. However, as a side hustle; blogging requires about 10-15 hours per week, and in about 1-2 years, you must have developed enough audience, content, and readers to shift it to a full-time blog.
As a blogger, without consistency in your time and effort; you end up nowhere. So, prepare yourself—restructure your habits, and fix at least 2 hours a day for blogging.
But, if you start it full-time, blogging requires not more than 8-12 months to be successful.
Now, let's move on to another requirement for running a successful blog.
#5. Writing Skills
A blog can have different types of content—videos, image, graphics, stats, lists, and text articles. However, writing skill is a common need in a majority of them. You should be good enough at expressing your thought, ideas opinions in written format.
Related post: Tips on how to improve your writing skill as a blogger.
#6. Team (if possible)
In the world of blogging, the team is an optional requirement, but it is considered important. Ideally, start everything by only yourself and build a team or hire experts in your field to help you grow to an average level.
You can earn from blogging alone. But if grow it, you will earn a high passive income.
Hope this article has helped you know the requirements for blogging in 2023. Please share it and remember to like our Facebook page for more important updates.