Do you have what to teach the world via the internet and you are searching for how you can make it come to reality? Do you want to blog about your expertise, experience, product, service, brand, company, and a lot more? Welcome to this page where I will show you the requirements you should have for blogging, and what it takes to be a blogger in 2023.
Blogging is the writing of articles/posts on a regular basis on a specific topic to teach, educate, inspire, amuse, and inform the readers. One of the interesting things about blog websites is many people can write articles at a time.
In case this is your first time searching how to create a blog or you just want to know the requirements involved for owning a blog in 2023, you are in the right place. Here on this website, our aim is to see you get the websites of your dreams for your business, company, service, product, and everything you do. You may see our guide on how to start a WordPress blog step-by-step.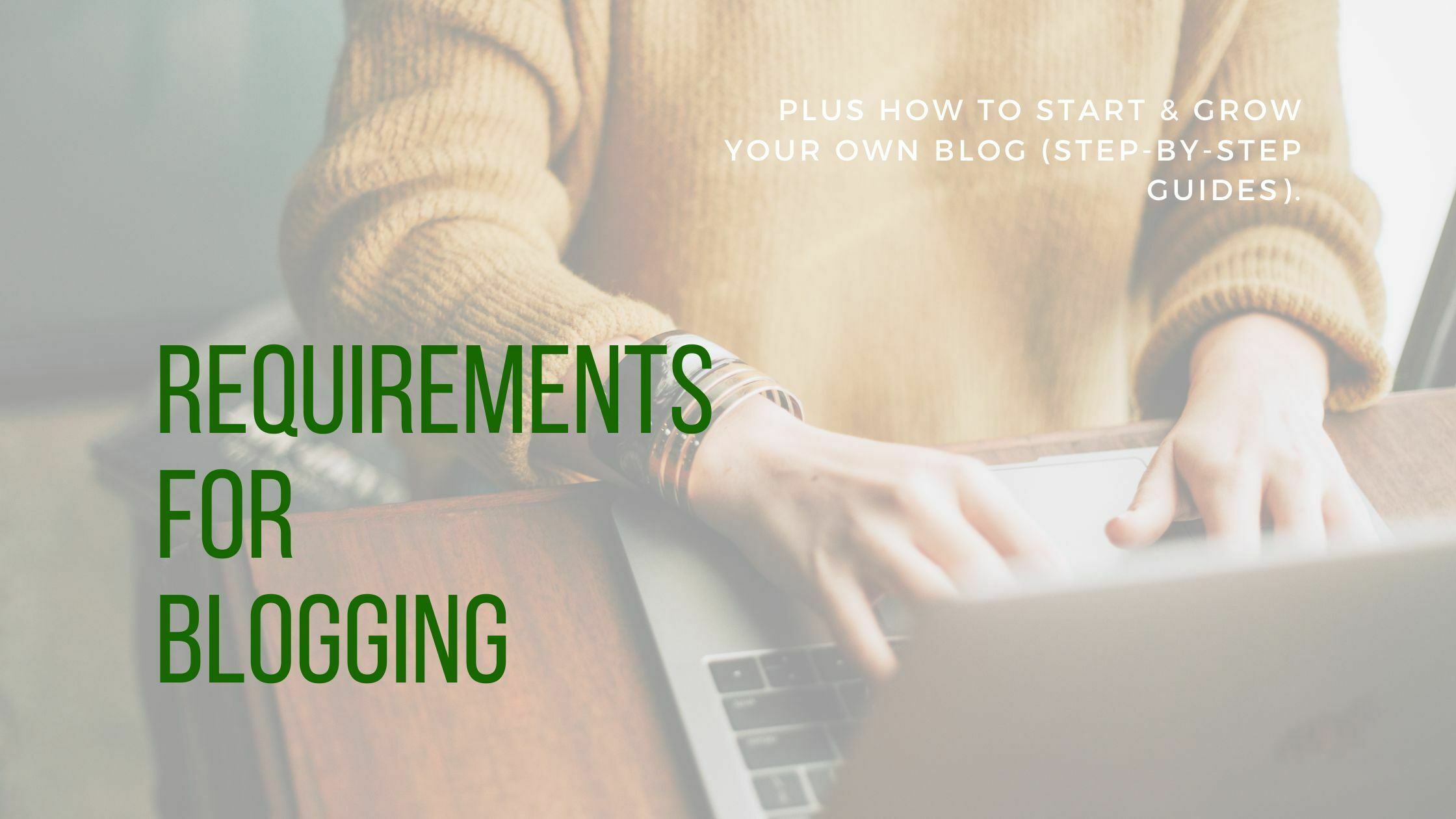 Now, let's start to discuss the requirements for blogging in 2023.
Requirements for blogging in 2023
#1. Computer
Every blogger will need a computer with access to the internet. A Personal Computer or a laptop is the #1 requirement to start a blog or website and any online business. If you are starting off without a laptop, that doesn't mean you should wait till you get it before you start or go on a loan for it.
You can find a business center or cafe where they rent their computer on an hourly basis. You may start with that in a few months to find what your audiences are looking for. You may see our expert guide on how to quickly choose a niche for your blog.
Any laptop you are using, make sure it has functional keyboards because you will need to type everything by yourself. Don't look for easy ways of copying other people's works. If you are copying content from other websites, your blog will never grow organically.
You can also use a tablet or a smartphone for blogging. A Content Management System (CMS) like WordPress effectively works on a Chrome, Safari, Firefox, or Internet Explorer web browser. Thus, make sure that your computer has any of these web browsers installed. You may see our expert guides on how to create websites with WordPress for free without coding.
#2. Hosting and domain
Your blog will need to be hosted online by a web hosting registrar. You will also need a domain registrar who will register your website or blog domain name. Your web hosting is the storage or warehouse of your blog's properties/files such as images, videos, documents, etc. while your domain is your business name, for example, fastknowers.com.
Even to start a physical (offline) business, you must acquire a place (office) and sometimes a business name/certificate. That is what hosting and domain respectively mean when it comes to starting a blog and website. You may see our expert guide on top best WordPress hosting companies in the world in 2023.
Note that you can't use a domain name that another person is using. That is why we advise that you should check your business's name domain name availability before doing anything, for example, registering it with the governmental business registration agency. Because, if you spend money any time going through the registration, the domain name for your business may not be available. What you should do is check the availability of the domain name for your business name online. You may see our guide on how to search for an available domain name.
#3. Content Management system (CMS)
Content Management System is a tool that helps webmasters add content to a blog without having to write a single line of programming code. One of the popular Content Management systems is WordPress which can be installed for free. We have a lot of guides, information, and tips that can help you know how to use WordPress to the fullest for free.
Other CMSs like Joomla are more specialized, but often, they are a little more complicated. However, to install a CMS, you will need suitable hosting because you must install it from cPanel. And it is a web hosting company that can give you access to the cPanel. You may see our expert guide on how to get a cPanel step-by-step.
#4. Consistent time and effort
To achieve anything that is worthwhile in the world, you need to put in more consistent time and effort. Blogging is not a funfair. The rate of your success as a blogger depends on the sacrifice of your time and effort. You don't really need money to start a blog.
If you are blogging as a side hustle, once you have realized its benefits, make it a full-time hustle. However, as a side hustle; blogging requires about 10-15 hours per week, and in about 1-2 years, you must have developed enough audience, content, and readers to shift it to a full-time blog.
As a blogger, without consistency in your time and effort; you end up nowhere. So, prepare and restructure yourself, develop new habits, and decide to blog at least 2 hours a day when you are starting off.
If you want to start a blog and make it your full-time career, then expect quick results in less than 8-12 months to be successful.
Now, let's move on to another requirement for running a successful blog.
#5. Writing Skills
You can have different types of content such as videos, images, graphics, stats, lists, and text articles on your blog. However, text articles that require your writing skills are a common need in a majority of them. You should be good enough at expressing your thoughts, ideas opinions in written form.
You may take a course on copywriting or content marketing to embrace your writing skills. You may see our expert tips on how to improve your writing skills as a blogger.
#6. Team building
In business, team building is very important if you want to deliver outstanding quality services to your consumers. If you are starting off, you should work hard to figure out what people are in need of. When you have found your niche, you can start building a team such as co-article writers, graphic designers, SEO experts, digital marketers, web developers, etc.
If you are the only one who is contributing to the growth of your blog, your development is less than blogs that five persons are working on. Thus, the earnings from your blog are based on the amount of your time and effort alone. But if you have more people with you, you will earn a high income. You may watch my video where I discussed on top four types of people that every company should employ. If you want to build a team for your blog, then you may find watching it helpful.
Frequently asked questions
Being an agency for a company's website and blog design for years, here are the answers to questions that start-ups frequently ask.
Conclusion
Blogging is the combination of words to persuade, give information, educate people, and lots more. It is one of the ways clever marketers use to promote their brands by writing about their portfolios, services, and products. Blogging is important for any marketer. You may see our guide on the top benefits of blogging (why should every company blog).
Hope this article has helped you know the requirements for blogging in 2023. If you know that it has helped you, then please subscribe to our YouTube channel and our newsletter for more updates. Share it with your friends on social media. You may also like our Facebook page.