Using Access bank mobile app, you can conveniently and easily have access to carry out transactions. From transferring funds to friends and family to paying bills or topping up on the go, the Access bank Mobile app makes everyday banking easier.
Mobile application of a bank is the tool we use to carry out our banking transactions everyday. As a matter of fact, there are many mobile apps designed by different Nigerian Banks, hence, Access Bank Mobile app is one of them and one of its advantages of is it enables its customers carry out transactions seamlessly on their mobile phone.
The Access bank mobile app can be downloaded from Google Play Store or Apple Store. After it was being downloaded on your device successfully, you can then start making basic banking transactions from the comfort of your home using your mobile phone any day, anytime, anywhere and anytime.
In this today's article, I will show with you an easy way to download the Access Bank Mobile App to save you the stress of searching for the app and at the same time to make sure you must have downloaded the right application on your device.
Features of Access bank mobile app
The 2022 newly created Access bank mobile app (AccessMore) can help you:
View your account statement as how as you like and be able to print it
Buy Airtime for yourself and others (Glo, Airtel, MTN, 9Mobile, etc.)
Recharge your cable TV (DSTV, STARTIMES, GOTV, etc.)
Pay for utility bills (NEPA, AEDC, EEDC, etc.)
Travel Booking
Request for cardless Withdrawals transaction
Search for the location of Access Bank Branches and ATMs
Transfer funds to Access Bank accounts
Transfer funds to other Nigerian Bank accounts
Buy Movie Tickets
Cancel/Stop Cheques
Credit card repayments
Transfer money from Access Bank internationally.
According to one of the Access bank advertisement last time, they said that if you download and transact on the Access mobile app and enjoy top-notch mobile banking services, then you can stand a chance to win ₦1,000,000. Isn't it fantastic?
Read these also:
The three main features of Access bank mobile application are:
EASY ACCESS
EVERYTHING AT YOUR FINGERTIPS: With Access bank Mobile Banking services you can do basic banking transactions from the convenience of your mobile phone anyday, anytime, anywhere anytime. It is convenient, fast and secure.
MULTI-PLATFORM SUPPORT
YOU DON'T NEED A HIGH-END PHONE
The Access bank app is available on any Smartphones (iPhone, Android, Blackberry) as well as Java-enabled phones. Whatever the mobile platform, you can be sure you have access to their services.
SPEED AND EFFICIENCY
IT "JUST WORKS": You can carry out secure banking transactions faster and more efficiently with straight-through processing and simplified transaction functions.
New Access bank more mobile app
The Access mobile app also popularly known as Access bank more app is a mobile application designed by Access bank PLC Nigeria to enable their customers enjoy digital banking services.
AccessMore is a new mobile payment application built on cutting- edge technology, offering tailored and personalized services, and excellent customer experience. This app is easy to use and is available for download on Android PlayStore and iOS Store.
Some benefits of Access bank mobile application are:
Carry out transactions in higher volumes to the tune of N2million daily
Confirm Beneficiary name for Funds Transfers
Purchase your Airline ticket
Carry out your Cheque Management – Request, Confirmation and other cheque instructions
Locate branch and ATMs closest to you
Airtime top-up to any mobile network
Transfer funds within Access Bank and to other Banks
Pay bills – DSTV, PHCN, LCC. E.t.c
Funds Transfer to Third Parties in Access Bank
Funds Transfer to accounts in other banks
International Funds Transfer to any country
Access Africa- Instant transfer across Africa
Airtime purchase
QR Payments with mVisa
Payday Loan
Bill payments to over 20,000 billers
Purchase of Movie Tickets
Account Officer's details
Debit Card Request
Self Activation
Cheque management
Self service options
Quick User guides
Beneficiary Management
Quick Transfers and Quick Airtime
Cardless Withdrawal
Generate receipts and and view bank statements
Have an access with call centre contact info, FAQs, user guides, etc.
How to download Access bank application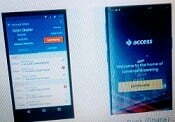 Downloading Access bank mobile banking application is available on app store, Google play store, etc. If you want to download Access bank application on your mobile phone, please follow the instructions below:
If you are Blackberry, then click here to download on it
Click here to download it on IOS device Apple App Store
To download from Google Play store, then please click here.
How to unblock Access bank mobile app
After you have downloaded Access bank app on your phone device, locate where the app is installed and unblock it.
This App is easy to use and is available for download on the Android PlayStore and iOS Store.
To this smoothly, you will need to accept its terms and conditions, then proceed to input your authentication token to initiate transactions. Please if you haven't got a token yet, then visit any nearest Access Bank Branch to request for one.
Install, unblock, use and reset your Access bank mobile application? Follow the steps by step guides below:
Download Access bank app from your device store, install and open it
Accept the Terms and Conditions
Input your authentication token to perform transactions or visit any Access bank branch closest to you to request for one.
Alternatively,
Visit the Android PlayStore or iOS Store
Download the "AccessMore" app
Select 'Sign up' to register
Select Unique User ID and Password
Create PIN with card or OTP sent to mobile number/ Call their Contact Center(01-2702005) to set up an E-PIN/token for you.
If you are in need of Access bank customer care's assistance, send a email to [email protected], talk to them about how they could support you reset your password and username on:
+234 1- 2712005-7, +234 1-2802500, 07003000000, 01-2273000 or visit any nearest Access Bank Branch.
Note: the Access bank daily transaction limit for individual is N5m per day and N1m per transaction.
Conclusion
If you know that this article has helped you know Access bank mobile app, how to download it, contact Access bank customer to help you reset your password in case you forget it, unblock you account for you, etc., please share it with your friends and remember to subscribe to our newsletter.
Read these also: