Are you a student looking for how you can start a blog? In this post, we will show you how student should start a blog and how you can monetize it.
Blogging is very important for a student. It helps you gain more knowledge about your field. If done right consistently you can earn money from it. When I was in college, one of my sources of income was blogging.
Thankfully, I gained a high-salaried job at a tech company after my graduation with the help of my blog. If you're a student and searching for how start a blog, then here, we've got you covered.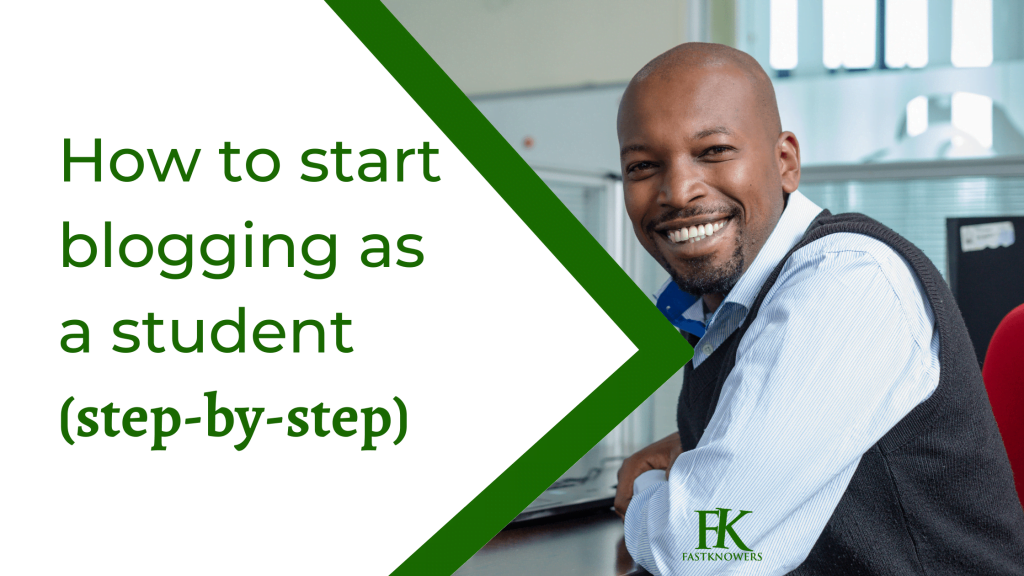 Students who have entrepreneurial mindset don't depend completely on their parents or guardian. The simplest type of entrepreneurship students can star is blogging. Interested to start entrepreneurship? Read 30 tips on how to be an entrepreneur here.
Before we start, how should students start a blog, let's know the meaning of blogging.
What is blogging
Blogging refers to writing, adding photography, and publishing other media online. It started as an opportunity for individuals to write diary-style entries, but many businesses have incorporated it into website.
The word "blog" is actually a shortened form of its original name, "weblog." These weblogs allowed early internet users to "log" the details of their day in diary-style entries. Blogs often allow readers to comment, so as they became more common, communities sprung up around popular blogs.
Now let's know how how to start a blog.
Origin of a blog
While a blog can encompass an entire website or simply be its own section of a website, this is a place to share content about a topic you're passionate about. A blog will typically include both written and visual elements published in an easy-to-read, article format so visitors can swiftly browse and find what they're looking for.
You can literally find blogs about every subject out there, from home renovation to baking. Once you've established a community of readers, the possibilities are truly endless.
Why start a blog?
People start blogs for a variety of reasons, some of which include:
Share your ideas with the world. Sometimes you just want your voice to be heard and get your ideas out into the universe. This is where a blog can help – it's a form of communication and space that's entirely your own. You can use your creativity and passion to create a space customized exactly to your liking where you can share your ideas, expertise, and experiences.
Promote a product or service. blogging is a great way to engage potential customers and provide more information about a product or service. Additionally, blogging does wonders for a website's SEO.
Earn revenue. Blogging can be lucrative with time and continued effort. The best way to see the monetary fruits of your labor is by posting quality content regularly that draws in new readers and brings more traffic to your website. This will help your blog gain advertisers and can also boost your status as an online influencer, which can open up the door for affiliate marketing.
Build an online community. Thanks to the internet, we no longer need to live in the same city, state, or even country to feel connected to others. A blog creates a space to share your story, and ideas and start conversations with people all over the world with mutual interests. A blog typically has a comments section where your readers can speak with you directly, allowing you to engage in conversation and build relationships.
For more information, read out information on reasons why blogging is important and why businesses and companies should blog.
Now that you have a better understanding of the reasons behind starting a blog, let's explore the steps you need to take to create one.
How to start a blog (step-by-step)
01. Choose a blogging platform
The first step in starting a blog is to select a blogging platform or Content Management for publishing your content. A quick Google search will show you that there are several different sites available that suit bloggers from all industries. I recommend WordPress because it's a good all-around blogging platform that satisfies most needs.
You may read our expert guide on how to setup WordPress blog for free.
At fastknowers.com, we have got a plentiful of straightforward to guide you setup and launch a blog. In addition, we also analyze how you can make money from your blog. You may read how to create your first blog post on WordPress to help you know how to build your readership.
How much does it cost to start a blog?
When researching how to start a blog, one of the biggest questions people have is how much it costs. On many platforms, starting a blog is completely free. However, you would need to buy a domain name and web hosting.
You can register can buy web hosting and get a domain name for free from www.FastComet.com.
Web hosting plan is based on your need. Thus, you can decide at any point whether you'd like to upgrade to a higher plans.
02. Pick a hosting platform
Once you select your preferred blogging platform, you'll need to choose a hosting platform. A blog, like other types of websites, requires a host. This essentially stores websites on a server under a unique address so that visitors can easily reach them.
You can choose from VPS hosting, shared hosting, dedicated hosting, etc.. Read our expert review about the top best shared web hosting companies for WordPress in 2023.
03. Find the right profitable niche
Let's move away from the technical and dive into the more theoretical. Take a step back and think about the main element that will form the foundation of your blog, from its URL and domain name to its content and design: your blog's niche.
There is virtually no limit when it comes to your choice of subjects. The most crucial thing is that you select a specific topic area that will be the central focus of your entire blog and its content strategy.
Possible blog types range from fashion blogs to marketing blogs to book blogs or food blogs. Because there are lots of other blogs focusing on the same subjects, you'll need a way to stand out while still writing about what you love.
Here are three simple steps for choosing the perfect blog niche – one that not only is in line with your passions but one that you can also monetize and grow.
"Paleo recipes," on the other hand, have a much lower degree of interest. This doesn't mean it's a bad idea – some bloggers prefer to write for a more specific crowd if they have a unique specialty – but it does mean there are fewer people interested in that particular subject area.
If Google Trends reveals that interest in a subject area is either very low or declining, then that topic is unlikely to gain traction.
04. Select a blog name and domain
As you think about how to start a blog, the question of what to name it is probably lurking somewhere in the back of your mind.
There are three main routes you can go with your blog's name. These include:
Your first and last name
The name of your business
A creative new name
When choosing your blog's name, you should also think about the personality you want it to reflect. Should it be formal and professional? Sweet and romantic? Edgy and offbeat?
If you're stuck on names for your blog, the FastComet domain name generator is a helpful tool. To use, simply visit www.fastcomet .com and enter the keyword you would like to be your domain name.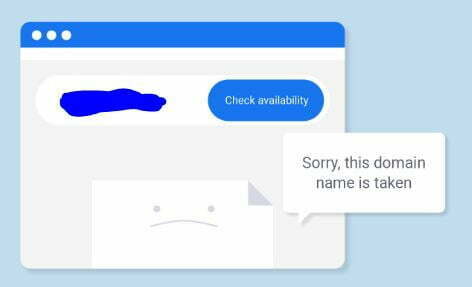 Once the domain name of your choice is available, you can go ahead and choose your domain name. When choosing the domain name, please be careful. Your domain name will be the same and also influenced by the name of your blog.
05. Set up and design your blog
At this point, you've chosen a blogging and hosting platform, domain name and blog niche. Now, you're equipped with all the basics for setting up your blog. You may read our guide on how to design your WordPress blog using Elementor for free.
Once you've completed designing your WordPress blog, think about which pages to include. Most blogs include more than just a navigation menu. However, for any type of blog you're creating, consider to add the contact us and about us pages.
Contact page: This is a place to put your email address so that fans and potential business partners can reach out to you. You can also include a contact form so that people can send a message directly through your site.
About page: This tells visitors who you are, what you do, and why you do it, providing some context behind your blog and humanizing your content.
You can also add a Tutorials page, Now Trending page, or Author's Pick page, etc.
Furthermore, some blogs opt to place their posts directly on the homepage, while others keep their home pages and blog pages separate. If you do this, make sure to add a navigation menu so that visitors can easily access your blog as well as any other pages.
There's no right or wrong way to set up a blog, so play around with different options to see what best suits your style and personality. Keep in mind that you will need to add and remove pages over time as your blog evolves.
How to make your blog get indexed on search engines
Another part of starting a blog is making sure it's visible on Google and other search engines. This is crucial if you want your content to pop up in search results, so you'll want to take care of this step right away.
To make your blog get indexed on Google, you will need to perform SEO. You may read our SEO checklist. In our SEO checklist, we will also show you how to submit your WordPress blog sitemap to Google Search step-by-step.
However, submitting your sitemap to Google Search Console is not only important for indexing your site, but it's also a valuable platform that you'll be using throughout your blogging journey.
Submitting your blog sitemap tells you important data about your blog's site visitors and clicks, which you can use to improve your content.
To find out whether your site is already included in Google's search index, do a quick site search like this site:yourblogname.com. If your blog pops up in the search results, then your site is already being indexed.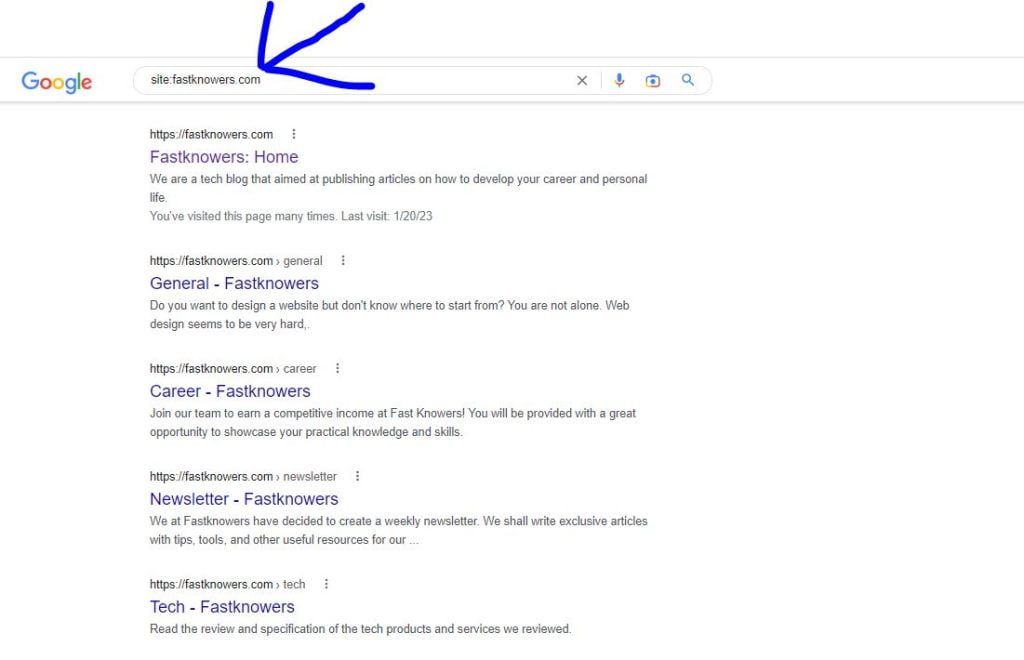 Create a blog logo
Finally, polish off your site with an attractive blog logo. This is another way to add personality to it, and it's an essential step if you want to start a blog that evolves into a recognizable brand.
One option is to design your own or outsource the task, but you can also use an online logo maker. These tools give you plenty of room to customize your logo with your preferred colors, fonts, and icons, and tend to be quicker and more affordable than hiring a professional designer.

Once you create your logo, place it in the upper left-hand corner of your website, and link it to your homepage. This will help brand your content while improving the navigation experience for readers.
How to brainstorm blog topics
On the technical side, your blog is now ready to go. It's time to start thinking about which topics you'll posting on it regularly.
To brainstorm your blog topic, you can begin by thinking about your experiences, successes, failures or discoveries related to your niche. What insights can you share? What ideas are you looking to explore in-depth?
As you think of topics, try to get into your readers' heads. Here are some questions to guide you through the brainstorming process:
What characteristics does my target audience possess?
What subjects does my target audience get excited about?
What challenges does my target audience face?
You can also come up with ideas using the topic cluster model. Essentially, this is a tightly organized system that strings together related posts using a series of internal links. While this process is usually considered part of SEO, you can also think of it as a mind map for coming up with ideas.
By this model, think about a broad topic – say, recipes – and then divide that up into smaller subtopics, like dinner recipes or brunch recipes. Then, divide those up into even more specific topics, like 20-minute dinner recipes, mimosa recipes, and cake decoration ideas. Any of these topics could be its own blog post.
How to write your first blog post
Writing a first blog post is where most people get stuck. Blog post text is a content which people consume on your blog.
Now that you've come up with ideas, you're ready to dive into the writing. Let's go over how to write a blog post.
1. Perform keyword research
Finding the right keywords is crucial for getting people to read your posts. By targeting certain phrases with your article, you increase the chances of your blog appearing on search results pages for those queries
Next, you'll need to strategically target your selected keywords throughout your article. You'll need to include the keyword that you have researched throughout your post and make you to structure your article based on the format of your competitor blog posts.
Let's say, for example, that you want to write an article about your favorite carrot cake recipe. Start by checking your competitors. Your competitors are the top 10 search results on Google for the keyword you want to rank for
When you type that phrase into the search engine, you'll notice that the top results are written as numbered steps, rather than as a story. You can therefore assume that most readers prefer the list format for these types of posts.
In order to provide valuable content to your readers – and to rank high on Google as a result – you'll want your own post to assume a similar format or even better.
Likewise, you'll want to touch on all the main points covered by your competitors. This doesn't mean you can't be creative – it's just to say that in addition to sharing your own original insights, you should cover all the bases.
To continue with our example, let's assume that when you look up "carrot cake recipe," the top search results include a section about how to make cream cheese frosting. This is an indicator that many readers find this content helpful. In addition, it shows that Google has a preference for articles including that detail. You'd be wise, then, to touch on this idea in your own article.
You may read our guide on how to properly perform keyword research for your WordPress blog post.
2. Outline your main points
Keyword research gives you an idea of the best format for your blog post, as well as which sections to include. This naturally segues into the outline stage of the writing process.
First, choose which type of blog post you'd like to write. Will it be a how-to guide? A product recommendation? An op-ed? Whichever blog post you want to write about and make sure you have a clear idea in mind before structuring the outline.
While you're writing, use headers and sub headers to break up your content into organized section. Aside from using heading, also add bulleted notes of the main points you'll include in each section.
Feel free to read our step-by-step guides on how to create a blog post on WordPress for the first time.
3. Make your blog post title outstanding
The biggest part of creating a blog post is making your title outstanding.
Blog post title is not long but it's a mighty piece of content. Your blog post title encourages people to click on through your website.
Think about what interest and excite people. People like to click to visit a blog whose post title is:
Clear and direct
Promise value
Appeal to your reader's emotions
Pique their curiosity
Use humor, alliteration, or wordplay, etc.
Here are a few fill-in-the-blank blog title ideas to help you: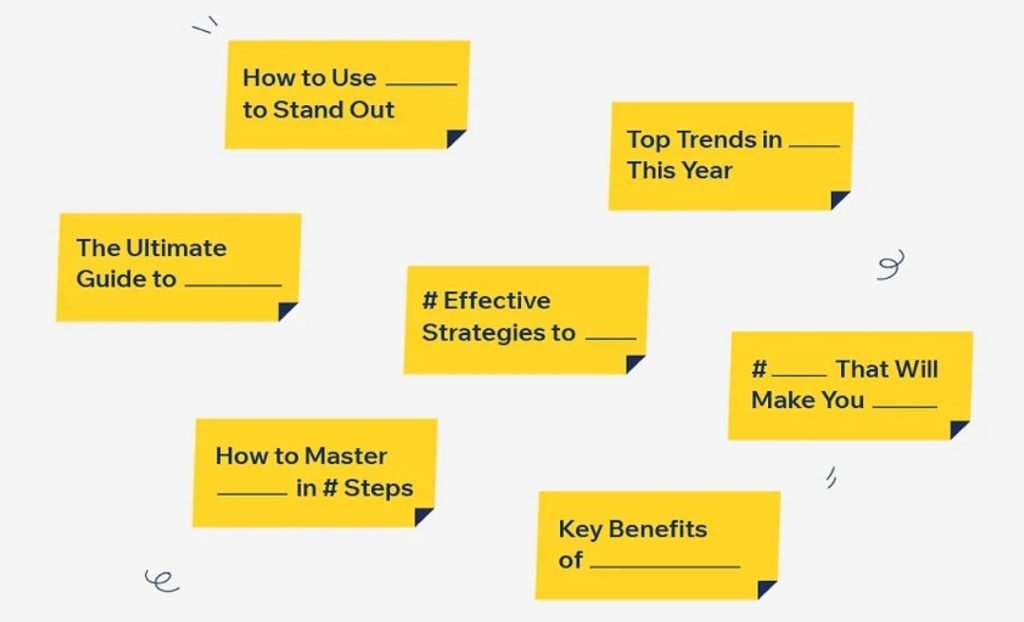 Checkout the picture above for more information on how to write an outstanding headline. You can use a tool called Buzzsumo to help know the right title to use for your blog post.
4. Make your content engaging
As you're writing, it's good to keep in mind that you'll need an introduction, engaging text and a conclusion.
In the introduction, grab your audience's attention with a captivating information, a compelling quote or statistic, or an interesting fact. Then, share a brief summary of what the article is about. The introduction part of a blog post is aimed at grabbing the interest of your readers.
Next, write the body text, using your outline as a guide. This is where you share your knowledge and expertise as a blogger. Make sure each sentence is meaningful, and dive straight into sharing your original insights and actionable tips.
You should also use a tone of voice that resonates with your audience, whether it's funny and casual or serious and formal.
Use a conclusion section to wrap up your blog post. You use this to tie your ideas together and share your closing thoughts.
Keep in mind that writing a blog post can take several hours or days, and it's a process that shouldn't be rushed.
5. Insert images
As you start your blog, remember that your choice of images can strengthen readers' overall impression of your article. Whether you add photos, screenshots, or illustrations to your articles, they should be functional as well as beautiful. Make sure they convey your main points and highlight important examples in the post.
If you don't have your own images, begin by browsing free stock photos on the web. Pexels and Unsplash are both popular sites for gathering visual material.
6. Optimize your blog for SEO
Once you create your content, there are a couple of things you'll need to take care of before publishing it. These steps primarily revolve around strategy, from improving your blog SEO to generating conversions through your article. Here's a quick post-writing checklist to guide you:
Double-check your keywords: Quickly search your content (CTRL+F) to review your use of keywords. Did you include all the keywords you intended to? If not, check to see whether there are any other opportunities to incorporate the keywords throughout your article.
Add internal links: One trick up every blogger's sleeve is to link between their blog posts – also known as the practice of internal linking. This helps improve your posts' SEO, and it also encourages your readers to browse your other articles. Rather than linking randomly, you should link between primarily related blog posts; this is better for SEO, and it also makes the links more valuable to your readers. If you're just starting a blog and don't have much content yet, don't forget to go back into your posts and add the links later.
Incorporate CTAs: The next trick to optimize your WordPress blog post for SEO is to include calls-to-action (CTAs) in it. It can be 'Buy Now', 'Subscribe', or 'Read More'. By placing call-to-action buttons in your article, you can direct readers to buy your products, subscribe to your newsletter, or click for further reading.
Use alt text: Search engine is a bot, thus they can't read photos. As a blogger, you will need to add a short description to each image using keywords to help the search engine understand what is being displayed. The alt text description helps your images show up in Google image searches.
Write your post's metadata: Metadata is the term for the text used to display a web page in Google search results. This includes the meta title (also known as the title tag) and meta description.
The meta title is the same as the title of your blog post, while other times, you'll want to choose a slightly different title for displaying your post. There's no right or wrong here, so long as your title is engaging and includes your most important keyword.
The meta description, which is the short snippet of text beneath the meta title, should also include your main keywords and should preview the article's main points.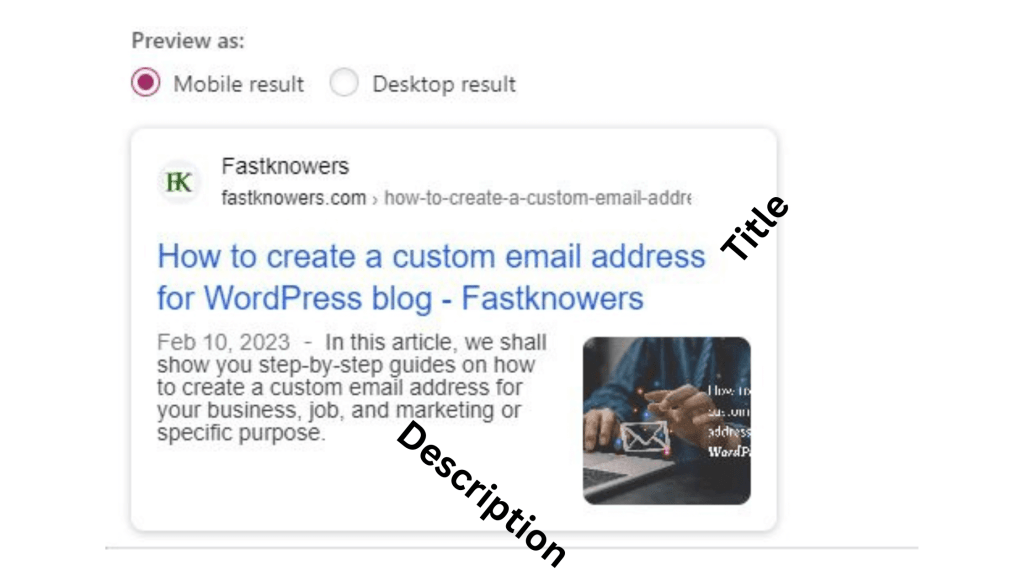 Choose your URL: The URL of your blog post (slug) helps you rank high on search engine results pages, and typically contains a keyword. Blog post URLs often take the form of www.yourdomainname.com/blog-post-keyword or www.yourdomainname.com/blog/blog-post-keyword.
7. Edit, preview and publish
After following our guides to create your first blog post, now is the time to preview it, edit it and publish it. You can also let your family members or friends to review.
When you think your article is ready to go live, click on the Publish button.
How to create an editorial calendar
Bloggers plan out the rest of the month's posting schedule. Thus, creating an editorial calendar for your blog post is ideal.
It's an effective way to ensure you publish content consistently, letting you hold yourself accountable as a writer and ensuring you don't deviate from your blogging goals. Your readers want new content, and you need to deliver it. Plus, search engines take into account how frequently you publish when determining your site's overall ranking.
You probably already have a handful of topics from your brainstorming session in Step 6. If not, use the same process to come up with new ideas. Once you have at least 10 or so ideas, start building a content calendar.
Your calendar doesn't need to cost a thing, and it certainly doesn't require the use of unfamiliar tools or platforms. Open up Excel or Google Sheets, and start building a schedule from there. The columns you use are completely up to you, but you'll probably want to create different sections for the publishing date, blog title, main keywords, article status, and comments.
Pro tip: If you know you're prone to procrastination (aren't we all?), open up a Google Calendar and fill in your deadlines there. You can even set aside blocks of time in your calendar for writing.
How often should you blog?
When learning how to start a blog, a big question people ask is how often they should be publishing new content. As a rule of thumb, the more often you blog, the more traffic you get.
There's no specific answer for exactly how frequently you should blog (post new article) but some statistics show that:
A new blogger should post at least 11 or more posts per month in order to yield a noticeable increase in traffic.
And it's ideal for old bloggers to publish 2 to 6 articles monthly to help you obtain subscribers, sell products and increase your affiliate commission.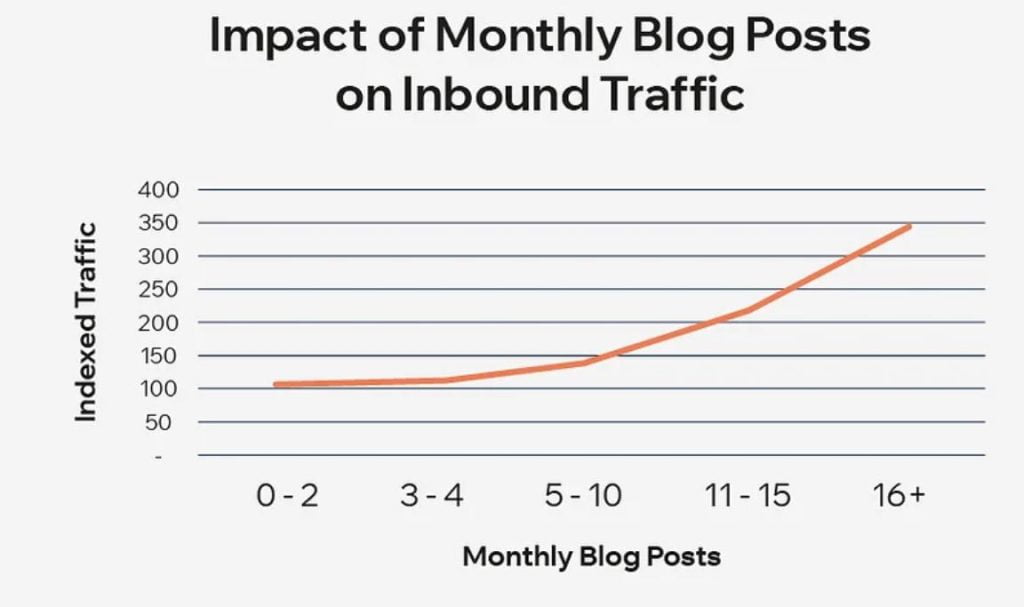 Keep in mind that as you create your editorial calendar, make your goals small and achievable. If you set unrealistic deadlines that you can't meet, you'll get discouraged.
You can allow other people to publish a post on your blog as guest contributor.
How to promote your blog
In order to get readers on your blog, you'll need to promote it. You can use social media to promote your blog completely free or advertise if you have money.
The higher you promote your blog, the more it'll turn into a serious monetization tool. Here's how to promote your blog;
1. Share on social media:
Social media is an excellent place to post your content and draw attention to your blog. Whether you promote your blog on Facebook, Instagram, Twitter, or LinkedIn, it's a great way to reach new readers,
2. Send newsletter:
Send out an email newsletter to engage your readers and get them to come back to your blog for more. This will help you sustain a loyal fan base. To get subscribers in the first place, including a prominent Subscribe button in your website's navigation bar, footer, and within your blog posts.
3. Write for other sites:
Strengthen your reputation as a writer and expert in your niche by publishing content outside your own website.
Consider opening a Medium account and making a name for yourself there, or post articles on LinkedIn. You should also keep an eye out for guest blogging opportunities, which are offered by publications such as Forbes and Entrepreneur.
4. Reach out to an existing community:
Facebook groups, forums, and LinkedIn groups are gathering places for people interested in a particular topic. If you find an online community that's relevant to your blog niche, share your website with them and network among their group members.
5. Participate in forum sites:
Sites such as Quora and Reddit give you the opportunity to highlight your blog in discussion threads. Use one of your blog posts to answer a question or follow up on a comment, but be sure to come across as helpful and informative rather than promotional.
6. Invest in paid ads:
In addition to sharing posts on social media, you can boost your posts with a paid promotion so that they reach more people. Likewise, you can pay for Google ads and reach new users through the search engine.
7. Change your content formats:
Expand your reach even further by trying new content formats. These essentially repurpose the same information provided in your posts. For instance, you can turn your blog posts into videos and start a YouTube channel. You might even create a podcast or offer a webinar. The sky's the limit.
How to make money from blogging as a student
One thing about content especially a blog with a large readership is they make you earn money from. AdSense is the easiest method for bloggers. You may read our guide on how to make money from a WordPress blog with AdSense.
Perhaps, here are another ways that a student can make money from blogging.
1. Affiliate marketing:
This is one of the most common ways to make money blogging, and it's easy to get started but requires a professional digital marketing skill to be able to make serious money from it.
Intermediate affiliates can earn between $500-$5000 per day, and that number only goes up with experience. There are plenty of affiliate marketing programs out there, but Amazon Associates is a popular choice for beginners.
2. Advertising within your blog:
Another option is to display ads within your blog post. This enables you earn revenue with each click and impression.
3. Offering paid subscriptions:
You can offer paid subscription like the way the New York Times makes people pay to read their content. This involves of making some of your articles free and make few exclusive content that readers can buy to have access to read it via subscription plan.
4. Accept sponsored post:
The best to have sponsored post on your blog is reaching out to companies. Or add a contact page to make it easy for people to contact you.
To get sponsored post opportunity on your blog, write articles that promote those companies' products, and the business. Surely, they will contact you and compensate you for the sponsored posts.
5. Sell e-books and merchandise:
You can also sell digital or physical goods directly from your site. This might include branded merchandise, products related to your field, or e-books and other online resources.
One way to do this is by adding a Cart button to your homepage that your readers can click to browse your merchandise.
6. Provide consulting services:
Consulting service involves making use of your professional experience and help other new bloggers as a professional blogger. Based on your insights and expertise, think about the kinds of consulting services you might be able to offer to your clients.
For example, if you've been managing a tech blog, one such idea could be making customized technology plan or working as a tech coach for clients.
Blogging resources
If you want to know the best place where you can get blogging resources from, then fastknowers.com has got you covered. Check our related blog posts below:
Keyword research: Read this guide to know how to perform keyword research for your future and existing blog posts on WordPress step-by-step.
Blogging tools
Finally, you may find our creative tools helpful. These tools are a big part of launching a blog since they make the process more streamlined and efficient. Here's a quick list of some helpful blogging tools you can use to start a blog.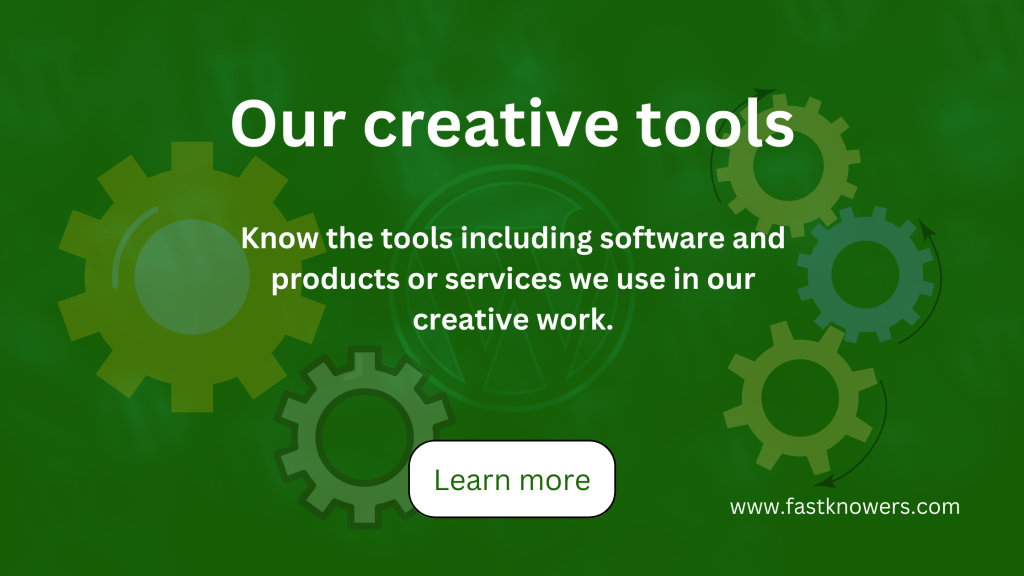 Conclusion
Hope this article has helped you know how to start blogging as a student. You may read our step-by-step guide on how to legitimately earn money with your WordPress blog. It is important to take your blog security on a high priority. Check the top best security plugins for bloggers.
If you know that this article has helped you know how student should start a blog, please subscribe to our newsletter. You can also find us on Facebook.