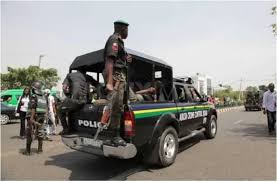 In this article today, I will show with you step by step how to carry out Nigeria Police Force (NPF) job application or recruitment form for 2022, NPF recruitment portal for 2022, Nigeria Police Force recruitment application deadline, requirements or eligibilities for NPF application in 2022a and lots more.
Are you an interested or a prospective person who want to become a Policeman in Nigeria? Do you know that no any job is better than civil servant in Nigeria? Police Force is one of the best military jobs in Nigeria and the good news is that you can apply for its recruitment in 2022 even with secondary school certificate (O'level).
If you want to apply for the recruitment of Nigeria Police Force (NPF) in 2021, then keep reading because shortly I will show you every latest news about it with you.
Do you want to always be the first person to be getting every latest and important update concerning Nigeria Police Force recruitment for 2021? If yes, then please subscribe to our newsletter with your email address now.
Let's continue the rest of our discussions now!!
Meanwhile, Nigeria Airforce has started physical training for the successful shortlisted applicants of 2021. For the scheduled time of the training, how you should appear there and everything you must know about Nigeria Airforce training for 2021, please click here.
Read these also:
Requirements to apply for Nigeria Police Force in 2022
Interested candidates of NPF are advised to carefully read the following instructions before applying Nigeria Police Force online Recruitment form for 2022 as any incomplete or wrongly completed form will be rejected and will not be processed.
Now, the requirements to apply for 2021 Nigeria Police Force (NPF) are:
Prospective applicant must be of Nigerian origin by birth and have National Identity Number (NIN)
Applicants must possess a minimum of 5 credits in not more than 2 sittings in WASSCE/GCE/NECO/NABTEB with credit passess in English and Mathematics.
Prospective Aspirant must be aged between 17-25 years by March 2020. Applicants must be medically, physically, and psychologically fit and must not be less than 1.67mtrs tall for male and 1.64mtrs tall for female.
Applicants must print their completed online forms, guarantor's form and submit it at the examination/screening and recruitment centre.
All applicants MUST have readily available scanned copy of their O'Level Result, Birth Certificate, LGA Certificate
Male applicant must not have less than 86 cm (34 inches) expanded chest measurement
Female Applicant must not be pregnant at the time of Recruitment.
Applicant must be free from any pecuniary embarrassment.
Application into the Nigeria Police Force requires the use of your National Identity Management Commission (NIMC) Number and by providing the number, you have given the Nigeria police Force the right to get your bio data registered on NIMC website
How to apply for Nigeria Police recruitment in 2022 (step by Step)
To be qualified for the recruitment exercise of Nigeria Police Force for 2021 session, every candidate must possess an o'level certificate in (WASSCE/GCE/NECO/NABTEB) with at least five credits level passes including Mathematics and English Language in not more than two sittings.
Note also that the application for this recruitment is absolutely FREE, hence, please don't pay to anybody for any assistance.
Meanwhile, to let's exhibit the life of some Nigerian police officers, please settle me with some of your money in case you will consider giving your money to those Yahoo boys purposely to help you get recruited directly into Nigerian Police Force.
However, any person who is suffering from any one of the abnormalities or deformities listed below will not be accepted for enlistment into the Nigeria Police Force:
Gross malformation of teeth or jaw preventing proper mastication of food
Impediment in speech/Stammering
Bent knees, i.e Knees which cannot be straightened when standing at attention/Crippled
Bow legs
Knock knees
Deformed hands which cannot perform the full functions of the hand
Amputation of any part of the body
Defective eyesight or squint eyes
To register for Nigeria Police Force recruitment form in 2021 session, please click here and follow the guides in this article.
Now, to apply or for further information, click on the tab below.
Guarantors' form of NPF In 2022 and how to download
After you've successfully registered, then print out your registration confirmation slip (first image) and guarantor form (second image).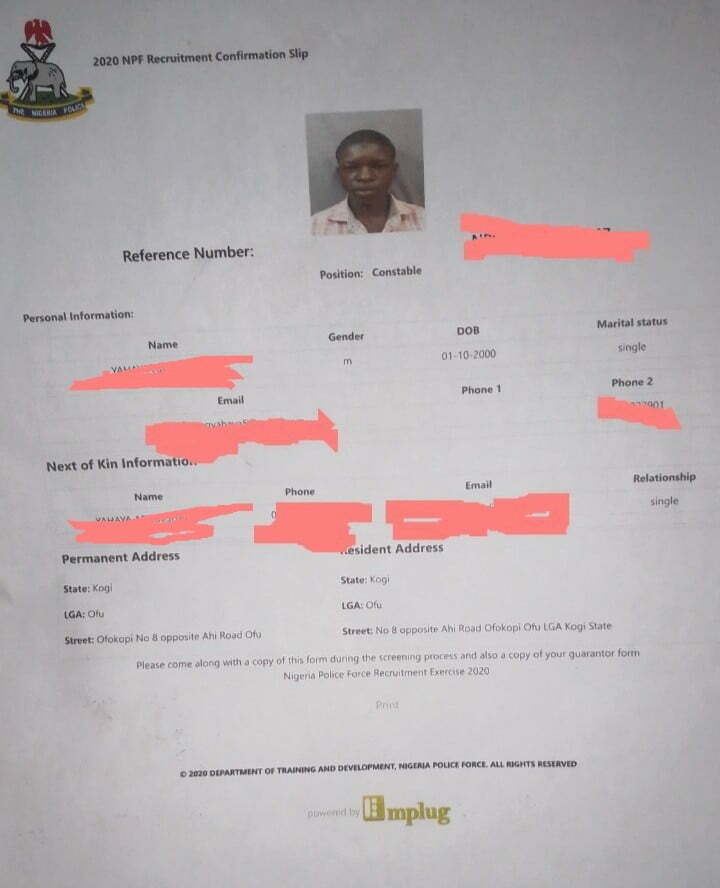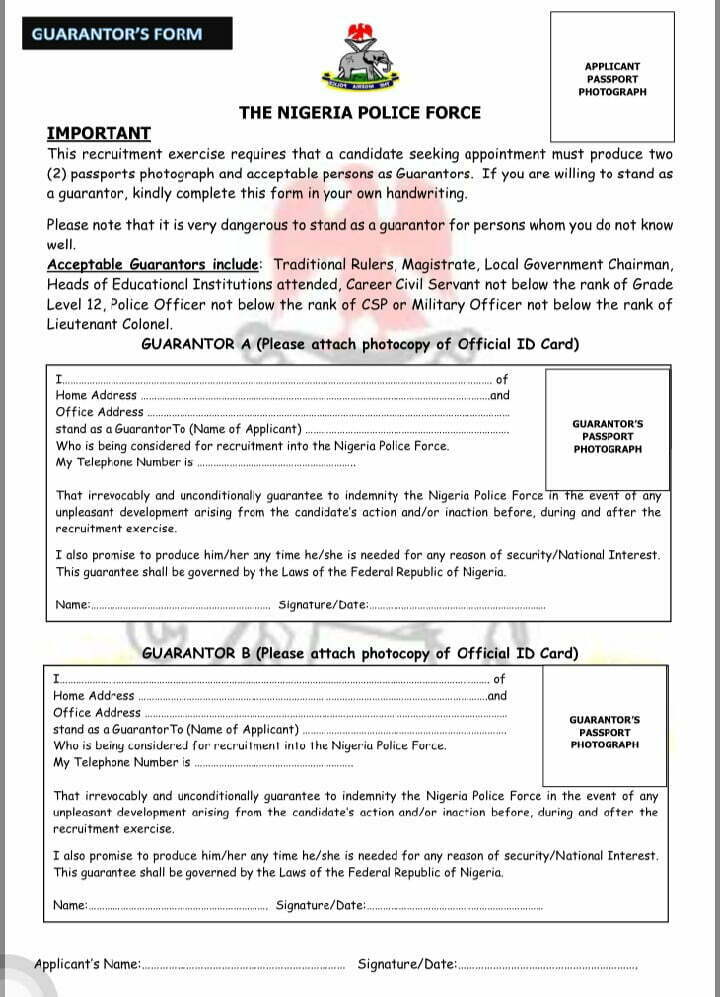 Then let person you know (traditional ruler of your community, retired police officer or the chairman/lady of your LGA) be as a guarantor of your application.
Note: in your guarantor's form, you'd align your passport photograph and your guarantors' passport photographs as specified in the images above.
See this also: list of all six (6) geo-political zones in Nigeria (states, cultures and languages present in each of them).
After your guarantors have signed the form, then take your registration confirmation slip and guarantor form to the physical screening venue at your state police headquarter for submission.
Please click here to know the scheduled date for NPF completion application slip and guarantor's form's submission for all thirty-six (36) states including FCT in Nigeria.
Application deadline
Meanwhile, Nigeria Police Force job application will end on 23rd of August, 2020.
If you are being successfully shortlisted, Nigeria Police Force will mail a message to your registered email address, then present a hardcopy of email message sent to you for the next stage of the recruitment process.
Applicant that meet the requirement from the online registration would be invited for physical screening at all State Commands (state's capital), including FCT Command from 24th August, 2020
No email and/or phone number can be used more than once in this application doing so will lead to disqualification
Applicants with multiple applications would not be shortlisted and contacted for physical screening.
The Nigeria Police Force will not on behalf of the candidate edit the provided information of candidates. Hence provide a correct information of your self.
All Candidates who applied and attended the physical screening exercise of Nigeria Police Force are advised to check their recruitment status and print their Computer Based Test (CBT) examination slip, if qualified for the next stage of the exercise.
Nigeria Police Force exercise will commence from Monday 18th October 2021 to Thursday 28th October 2021 at Police headquarter as indicated in the examination slip of every candidate.
Conclusion
If you like this article, then share it with your friends and remember also to follow us on Facebook and Twitter and subscribe to our newsletter for more important updates.
Has this article helped you know everything about Nigeria Police Force application or recruitment in 2021? If yes, then please comment with any question or feedback you may have through the comment box of it.
Disclaimer: I am here to solemnly disclaimed that all images, logo or third party website url found here in this article are not made or owned by me, in fact they are here for informational and coaching purposes. If I have damaged you, please contact us to remove your property asap.
Read these also: